Economic projects of Shymkent interested french investors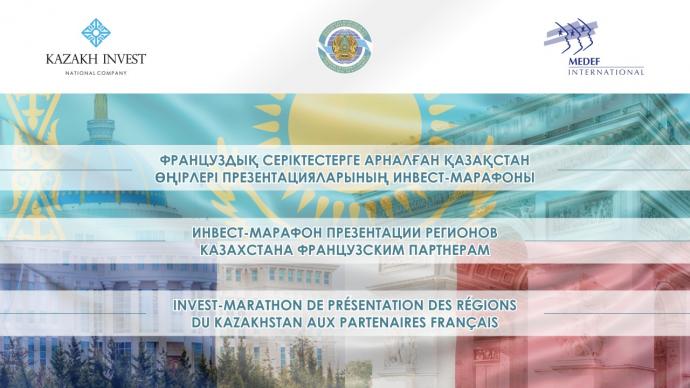 Shymkent - Paris, 9 March 2021. As part of the investment marathon of the presentation of the regions of Kazakhstan to French partners, an online meeting was held between the Akimat of Shymkent and companies represented in the largest French business association "MEDEF".
The event was attended by the Akim of Shymkent Murat Aitenov, Ambassador of the Republic of Kazakhstan to France Jean Galiev, co-chairs of the Kazakh-French Business Council Aidan Karibzhanov and Yves-Louis Darricarrère, as well as more than 40 representatives of French business circles, heads of structural divisions of the Akimat of Shymkent and KAZAKH INVEST.
In his speech, the Akim of Shymkent city noted the great interest of foreign investors in the third metropolis of the country and invited French businessmen to active cooperation in such priority sectors as mechanical engineering, digitalization, renewable energy, trade, food industry, and tourism.
The webinar participants were presented with the investment potential of Shymkent, plans for the further development of new industrial sites, digitalization and improvement of urban infrastructure, as well as niche projects for investment.
The Ambassador of Kazakhstan noted the importance of decentralized cooperation as a key element of economic diplomacy and expressed the hope that the forum would contribute to the search for new ideas for expanding and strengthening strategic partnership in the spirit of pragmatism and taking into account mutual interests.
During the dialogue, the French side had the opportunity to ask several questions to the head of the city about the prospects for cooperation in various sectors of the economy of Shymkent. In particular, interest was shown in the construction of the "Shymkent City" project, the industrial zones of the city, and the historical and cultural complex "old settlement of Shymkent". Representatives of French companies also offered cooperation in the development of the city's infrastructure using green technologies and participation in projects for the introduction of public transport on hydrogen.
At the end of the webinar, Akim expressed the readiness of the city's structural divisions for close dialogue with French companies on all voiced proposals and the implementation of joint investment projects in Shymkent.
It should be noted that the investment marathon for the presentation of the regions of Kazakhstan was initiated by the Embassy of the Republic of Kazakhstan in France and is supported by the "MEDEF International" and KAZAKH INVEST. Earlier, presentations were organized to French targeted companies of the investment potential of the cities of Nur-Sultan and Almaty.